Raise your hand if you love carbs! *
both hands waving wildly*
If heaven were on earth it would look like a bakery. (
Dr. Adkins and I will never be BFF's. I'm ok with that.
) I believe that every balanced meal has a meat, two vegetables, a fruit, and a floury, yeasty, crusty, crumby, CARB! Oh yeah, and a dessert.... but that's a given.
Sometimes I'm looking for bread to go with my meal but I'm tired of frozen dinner rolls. This bread is so savory, easy to make, and goes great with soup
,
butter, salad, butter, grilled meals, oh... and butter. My FAVORITE way to eat this bread leftover is to take a slice and put a little butter on it (figures, right?), spread some grated cheese of your choice over top, and sprinkle with a little garlic salt. Then broil it until the cheese melts. YUM!
Garlic Herb Bread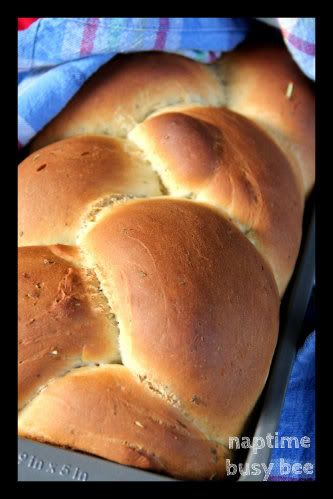 Ingredients:
4 to 4-1/2 cups all-purpose flour
3 tablespoons sugar
2 packages quick-rise yeast
1-1/2 teaspoons salt
3/4 teaspoon each dried marjoram, thyme, parsley flakes, basil and oregano
3/4 teaspoon dried rosemary, crushed
3/4 teaspoon rubbed sage
3/4 cup milk
1/2 cup water
1/4 cup butter, cubed
1 egg
In a large bowl, combine 1-1/2 cups flour, sugar, yeast, salt and herbs. In a saucepan, heat the milk, water and butter until warm but not boiling. Add to dry ingredients; beat just until moistened. Add egg and beat until smooth. Stir in enough remaining flour to form a soft dough. Turn onto a floured surface; knead until smooth and elastic, about 4-6 minutes (
I just used the dough hook on my kitchen aid for 4 minutes
). Cover and let rest for 10 minutes. To Braid: Divide dough into thirds. Shape each portion into a 15-in. rope. Place ropes on a flat surface and braid; pinch ends to seal and tuck under. Place in a large loaf pan, cover; let rise until doubled, about 20 minutes. Bake at 375° for 25-30 minutes or until golden brown. Remove from pan to a wire rack to cool.
Makes 1 large loaf
Source: Taste of Home