Anybody else need to go grocery shopping on a friday? This morning I opened my fridge and realized we were down to chicken broth, an apple, and pickles which didn't make for a very appealing breakfast at our house.
#unintentionaldietplan
. ###
Idon'tknowwhatmyobsessionwithusinghashtagsisbecauseIdon'tevenknowhowtotweet.
I usually ration breakfast food better but for some reason I was the oatmeal queen this week and, well, got a little carried away with my oat obsession. So, in light of my pending grocery trip today I thought I would share a way to organize and simplify grocery shopping so that it doesn't become a headache!
Is anyone else a compulsive shopper? This is my previous trip to the grocery: "
I need bananas, bread, and eggs so I'll just run in real fast. Oh look, chocolate covered blueberries! I need more antioxidants so I must get those!.... They make peanut butter cheerios? Oh my gracious. I should make sure they are good.... Pepperonis are on sale! We love pepperoni stromboli! I need 10 packages! Sham what? Sham WOW? My life won't be complete without these!"
So then of course I would get home and Dave would help me unload the groceries and ask me a million times why we needed a jumbo case of twinkies, 10 packages of pepperoni, and 8 gallons of canola oil. Slight buzz kill. So I decided to avoid the scrutiny and just stick with what I needed. Know what? It's so much easier to avoid guessing what you might need/want to eat when you're standing in those florescent lighted aisles with brightly colored packaging and a growling stomach.
We have always gotten paid roughly every two weeks so I try to plan my meals for two weeks at a time. I have familiarized myself with the shelf life of produce so that we know what to eat first and what will last the whole two weeks. Usually we do pretty good and don't need to run back out for anything but of course there is the occasional moment when we do. Let me tell you though, that is
rare
! I have done this for roughly four years and it's always worked great for us. Recently though, I have gotten even more simplified. I created four separate versions of meal plans and accompanying grocery lists. Each version has a total of 8 meals and a list of all the ingredients needed. We only make 8 meals in two weeks because there is always the occasional dinner with our families or a night to go out or just a night to eat up our leftovers. Here is an example of one version:
Meal Plan Version 3
1. Chicken Pot Pie
2. White Chicken Chili and Salad
3. Spaghetti, Garlic Bread, and Green Beans
4. Vegetable Soup
5. Salmon, yellow rice, and broccoli
6. Bourbon Chicken and Rice
7. Teriyaki Pork Tenderloin, potatoes, and peas
8. Fajitas
Then included on the list is everything I need to make all these meals. I have a separate list that has our staples on it (milk, eggs, bread, cereal, baby food, and fruit). When I'm ready to go shopping, I pick one of the versions and print it off. Then I go 'shopping' in my own kitchen and cross off anything I already have. I also check my pantry staples. Am I out of flour? Ketchup? Rice? Paprika? I write any of those things I am out of on my list. Then I'm ready to go!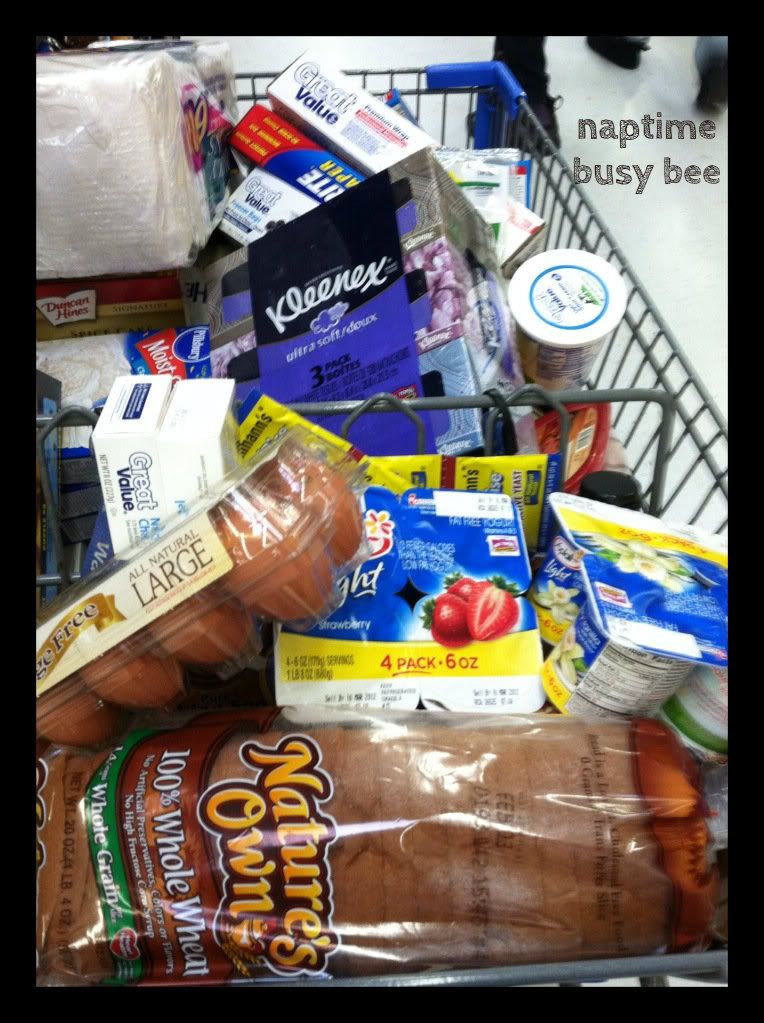 We have a pretty strict grocery budget and I take our grocery money out in cash so that I don't overspend. (
yes, I am that person who shops with a calculator in hand. Laugh if you want but we enjoy our debt-free life!)
Because of that, I tried to make sure my meal lists had a variety of 'expensive' foods so that they would all come out similarly in price. I also ONLY shop for groceries when I go grocery shopping. I tend to coupon when I buy toiletry/household items and that involves using a whole different section of my brain. I had a baby... only one brain section works at a time! Anybody?
IMPORTANT! I also do nooooooot go shopping with the munchkin on my own. I end up focused more on him and I just don't get what I need or make impulse buys to get out faster. So either I go by myself or I go with Superman who takes the munchkin walking up and down the aisles while I shop. Important announcement over.
I've been so happy with my meal versions. We eat a variety of foods and don't get stuck in as many 'ruts', we save money by planning ahead, and we eat out less when we have all the meal ingredients available. Plus, it takes so little time and brain power to get ready that I can even send my husband out headache-free and know we will end up with all the things we need. Ohhhhhyeah! Go right now and sit down with your family and come up with all your favorite meals. You'll be amazed at how many they think of. Then fill in any blanks (when in doubt, breakfast for dinner is ALWAYS a hit!) and write out your ingredients needed while you watch a good movie or something. You'll thank me when you can stay at the pool longer this summer because you don't have to go make a grocery list!
Since I went 'live' yesterday and now have some lovely readers (hi y'all!!) I'm excited to hear from you. How do YOU grocery shop? Are you a monthly, weekly, or randomly kind of shopper? Do you have any tips or tricks you use? Would a system like this work for you or no-way/what-the-hey/no-so-much?