I'm a sucker for packaged, artificial, overly processed chocolate sometimes. Especially when it comes in the form of a little debbie cake or a hostess cupcake. Unfortunately, I finish eating one and then I feel like I ate wax and plastic. Icckkkkk. So, if you have similar cravings, please go make these today. (right now! Goooo!)
Ho Ho Cake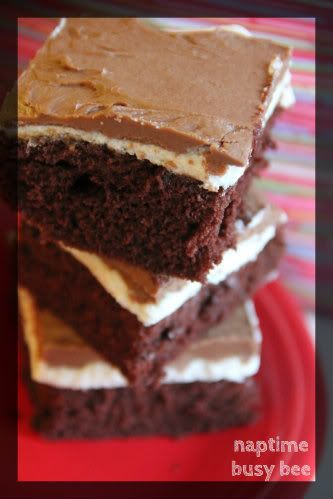 Ingredients:
1 Devils Food cake mix (and ingredients needed to make the cake)
5 T Flour
1 1/4 C. Milk
1 C. Sugar
1/2 C. Shortening
1/2 C. Butter
1 tsp Vanilla
3 oz Semi sweet chocolate
1 tsp Vanilla
2 1/2 T. Hot water
1/2 C. Butter
3 C. Powdered Sugar
Preheat oven to 350 degrees. Mix cake as instructed on box. Pour into a 16×11" pan and bake 20 minutes. Cool Completely. Heat flour and milk in saucepan. Cook until thick and then cool completely. Beat sugar, butter, shortening, and vanilla for 4-5 minutes or until creamy. Add cooled flour mixture and beat until smooth. Use it to frost the cooled cake and refrigerate for 1 hour or more. Melt chocolate. Mix together chocolate, vanilla, water, butter, and powdered sugar until smooth. Spread on white icing layer. Keep refrigerated.